Andrei Master Tailors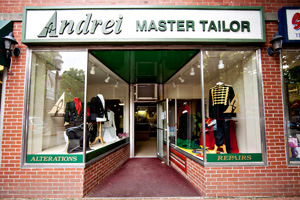 As one of Canada's premier tailor shops, Andrei Master Tailors has acquired a remarkable reputation for its quality garments and excellent service. At Andrei Master Tailors, we draw from the time-honoured and proud tradition of Master Tailors and that is reflected in the garments we produce. Each garment is tailored in-house by one of our professionally trained Master Tailors and careful attention is given to value for our customers. This value is evidenced by the personal service we provide but also by the crisp, perfectly fitted and long life of our garments.
We are known for our unique tailoring services but we also provide customers with a full range of alterations services. We can also provide many accessories such as boots, shirts, suspenders, bow-ties, cummerbunds as well as custom buttons, insignia and crests.
66 York Street